Goodyear TOW365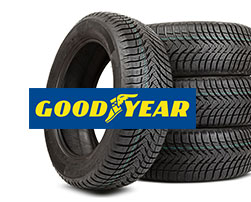 Goodyear Tire & Service Network location.Goodyear's TOW365 provides towing assistance to your nearest Sullivan Tire and Auto Service along with any participating.
To use TOW365 services, all you need to do is call 1-877-GYR4TOW (1-877-497-4869).
Goodyear TOW365 Benefits:
No sign-up or membership required
Your vehicle can be towed any distance
Towing cost is the same regardless of the day, time of day, or holiday
Tow truck drivers are fully certified based on our provider's stringent application process
The program covers cars, light trucks, and SUVs at $39.99 for tows up to 10 miles, $59.99 for tows between 10.1 miles and 20 miles, and $89.99 for tows up to 30 miles. For tows greater than 30 miles, there will be an additional charge that the tow provider sets and charges the customer for directly.
Cost of tow added to the invoice at the selected TSN retailer.
Service provided by Agero. Available only on cars, light trucks and SUVs. For more information, please click here.